On the 14th April 2018 we packed our bags full of ingenious special effects and headed over to Birmingham for the Commonwealth Games Handover ceremony from The Gold Coast of Australia to the bustling City Centre of Birmingham.
The handover Ceremony took shape of various performances which lead to a live broadcast of the handover which was to be aired all over the world including the UK and the Closing ceremony of the games in Australia. This live airing was to be filmed using a single camera and one single 5 minute take. For this our effects, ranging from smoke filled bubbles to explosive confetti cannons had to be seamlessly on point to pull off this one of a kind show.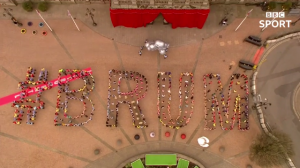 Check out the full video here   http://www.bbc.co.uk/news/uk-england-birmingham-43755833
If you look closely at 3:17 you may even see Mark, in the choir singing his heart out.